84-1170 Farrington Hwy
C-1
Waianae, HI 96792
United States
CATEGORIES & HEADINGSdetails >>
Construction, Energy, and Maintenance Solutions
From the unique and beautiful valley of Makaha, Oahu, and now serving Hawaii for more than a dozen years, Hawaii Unified is the state's central source of Construction, Energy, and Facility Maintenance services. We place our overall success in the hands of our 'ohana – each an important part of our team, our HUI.

Better Employees, Better Service
Our employees are the pride of our company and one of the key factors that sets Hawai'i Unified apart: We do not use independent contractors or temporary labor. We maintain a full-time field staff of qualified tradesmen and specialized experts. While this business practice is rarely seen in Hawaii, we know it is essential to have reliable and quality trained personnel when it comes to providing you with exemplary service that meets or exceeds your company's expectations. While mainland companies struggle with high travel cost, market ignorance, and temporary labor problems, Hawaii Unified gives you expertise, consistency and efficiency that only a Hawaii-based company can offer. Our excellent safety record is proof of the training, skill and experience of our staff. As a result, you can be sure your project will be completed to your satisfaction: On time, on budget and without the problems that normally plague Hawaii.

Personal Attention & Customized Solutions
In our business it's all about the personal connection. We always provide individual attention and customize the solutions that best work for our numerous partners. Our industry leading experience and financing options make Hawai'i Unified the perfect choice for a wide range of projects.
Product Showcase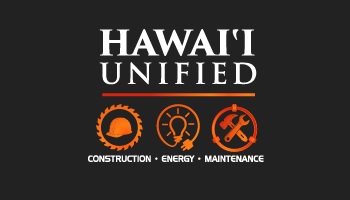 Trust Hawaii Unified for all your construction, energy, and maintenance needs. read more